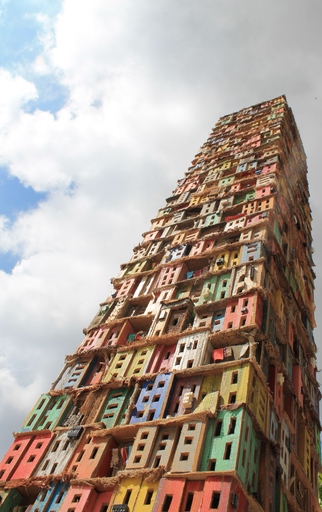 Colorful little shacks.
By nature, I have a tendency to use dark and therefore somber colors.In 'Favelas' (2010) I found a suitable way to bring some more color into my work; something I preferred doing because I don't want to communicate somberness. The fact that slums are built out of all sorts of materials, also was a reason for choosing this subject within the theme of habitats. Bonaire, where I live, is a real El Dorado where it comes to the availability of useful and often worthless material, which helps inspire my work.
The choice of presenting the structure within a geometrical frame, offers the depth to build everything in whilst also offering a lot of possibilities to experiment with the relationship between frame and structure. Gradually two groups are developed within the theme of colorful slums: the landscape and the more geometrical presentation, where the frame has been left away, to be exchanged by a compact, geometrical shape. 'Rectangle' is the first example, followed by art works like 'Half pipe', 'First corner', and 'Two quarters', all made in 2014, in 2016 to be followed by 'Split half round' and 'Laundry day'. The geometrical presentation keeps forcing itself upon me, which in the end means the representation becomes subservient to the shape in which it is presented. With the little shacks becoming the mere building stones of the geometrical shape, a contrast arises between the disorderliness within the representation and the shape that it develops itself in.
The sky scraper.
The fantasy of an enormous tower of little shacks had been haunting my head for years, and I finally started building it in September 2016. The Sky scraper became a reality and a new phenomenon began to occur. By enlarging the size of the art work considerably, but not that of the little shacks, the number of details grew so exponentially that it was hard to fathom. Knowing how the spectator tends to stray through the details of my art works, this became the ultimate habitat in which one seems to get lost in completely. This, to me is a completely new experience in regards to my work.
Working in my studio makes me feel like a child that is expressing himself in carefree play. Building the habitats feels more like 'modeling in wood' than a constructive technique. Every little part is determined very accurately, especially regarding colors, placing of laundry lines and stairways, direction of windows etc. The whole absolutely has to be in total balance.